afrolifestyle-interview
Reiner Opoku develops, realizes and manages international art- and culture projects. He is a Berlin based art consultant and international art agent. He has curated numerous international art exhibitions since the early 1980s and is representing a variety of renowned contemporary artists. Reiner Opoku serves as an advisor and initiator for aligning artists and the creative world with institutions, galleries and brands by creating collaboration platforms, publications and commissioned works. The network build in nearly 40 years of experience in this professional field is the foundation of his work.
Reiner Opoku was the founding director of St. Moritz Art Masters in Switzerland and a Co-Founder of Parley for the Oceans in NYC. He is partner and executive producer for the Virtual Reality production company Mirror+Sparks in Munich and NYC.
afrolifestyle: Hello Reiner, great to have you at afrolifetsyle. Could you please briefly introduce yourself.
Reiner Opoku: Hello my name is Reiner Opoku. I am sixty years old. My father came from Ghana and my mother from Germany. I grew up in Cologne and now I am living in Berlin.
Cologne in the early eighties
afrolifestyle: How was it to live in Cologne in the early eighties?
Reiner Opoku: Living in Cologne in the early eighties, was really an important time for my coming up, because Cologne became like the capital of the art world besides New York. In the collective mind of the people there was New York and on the other hand Cologne. There was not even London on the map or Paris. The two cities were not that far from contemporary art, but for me Cologne was the place where my artistic skills were developed. I met a lot of artists from the generation before and from contemporary art, the so-called Young Wild painters.
Office Reiner Opoku in Berlin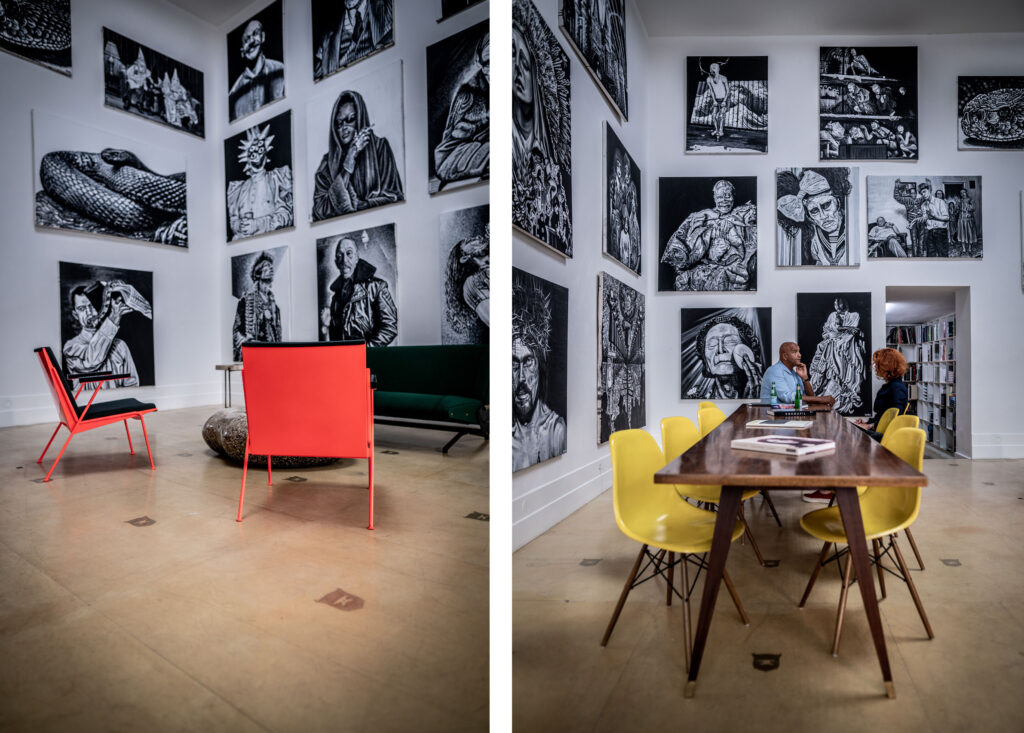 afrolifestyle: As a successful businessman, you work with stars and famous artists. What were your most important encounters?
Reiner Opoku: Somehow it just happened! Certain artists became famous and successful over time. I follow them now for more than thirty years and at that time they were maybe known but not as famous as they are now. Fame is relative, it doesn't express everything that is behind the character. But I would say, the most important encounter was that I met one artist at that time, that was Georg Dokoupil, with whom I am still working today. He is one of the leaders of the German Young Wild painters generation. We went through his complete career together, because I was a part of it. But I started out as his assistant working in his studio, stretching the canvases and really getting into the art world from scratch, but not the academic way, more the hands-on way. We spent so much time together, we went to museums, I learned a lot from him about art and what artists do. What is the intention? I worked on a lot of paintings with him, which also gave me the physical knowledge to do art. I would say that this was the most important encounter to start my so-called career in the art world.
afrolifestyle: It sounds like you became good friends.
Reiner Opoku: Yes, we are very good friends and he taught me a lot about art.
It's all about art
afrolifestyle: On your website there are a lot of big names like Julian Schnabel, Gerhard Richter, David La Chapelle, of course Georg Dokoupil, Rosemarie Trockel and many more. When did you decide to work with artists?
Reiner Opoku: It is not like that I chose the art, it's more like the art chose me. I realized my ability to transmit what artists are doing, somehow like a catalyst, like a tool for the artists. More and more I was in the position to be able to channelize them, to make a project out of it and to finalize it. These are my humble skills in the whole context. A good artist is a good artist, that will not change, but he needs people to support him, either galleries, institutions, critics or someone like me who is able to channelize his creativity and fulfilling projects he has on his mind.
afrolifestyle: You are the man behind the scenes! You are not in the front row and the artists believe in you. They have their freedom and space and you do all the organizational stuff.
Reiner Opoku: Exactly, I don't have to be in the frontline. For me, it's about the art and the artwork itself. My goal is to finalize projects. Nowadays some artists are becoming Popstars, that's okay! It's just a development in our current time and society, but in general the art will stay and the artist will die. The artworks will remain, as they were done in their time. Art does not age.
afrolifcestyle: What have been your biggest challenges so far?
Reiner Opoku: When I do something new, it's always a big challenge for me. I have this tendency to approach things with my gut. It's not that my mind doesn't guide me, but it's more my instinct. I have made so many decisions in my life based on my gut, some of them were wrong, some of them were good. Now that I'm getting older, I'm a bit more careful to evaluate what's right or wrong. But I still need that certain gut feeling that sometimes leads you into different areas, which has enriched my life in success and brought excitement in the not so successful things.
St. Moritz Art Masters
afrolifestyle: You and your business partner created the Art Masters in St. Moritz, Switzerland. What was the driving idea behind it?
Reiner Opoku: The city of St. Moritz wanted an annual event, something high profile on a cultural level in the summer. In winter, St. Moritz is known for sporting events and luxury. My business partner Monty Shadow from Milan and I developed the idea of curating art exhibitions in the valley of St. Moritz. He is a networker and works with major brands. He has contacts all over the planet and I have business relationships with well-known artists. The claim was Art & Nature, to enjoy art and promote the Engadin region around St. Moritz in the summer. So we created an art festival in the summer. The nature in the valley is so interesting. We brought many artists from all over the world to the Art Masters and curated art exhibitions in different places and hot spots in the region, e.g. cabins on the mountains, in churches, in hidden places, on lakes, we turned the whole valley into an art program. We convinced companies and major brands to help us build this unique art festival that brings art and knowledge transfer to the people. We started the Walk of Art in this region, which resulted in many exhibitions, panels and workshops. Of course, it was funded by the brands. The brands helped us to settle up the Art Masters into a public festival. They invited their business partners, paid for the side events and they also invited the artists, which was a huge amount of money. It took us a couple of years to establish it, but after that it went very well for at least ten years. A smaller version of the Art Masters is still happening. After 10 seasons, I felt it was enough for me and I stepped out to start new projects.
What does digitalization mean to you?
afrolifestyle: One of your new business areas is virtual reality. What does digitalization mean to you?
Reiner Opoku: Without my partner Prof. Jörg Liebold, I wouldn't be so deep in VR. He is a Professor at the Macromedia University in Munich. I knew him from New York, where Jörg was working for a friend of mine and they did all this high-end advertising with animated films. Then Jörg went back to Germany and we met again through an idea that I had when Virtual Reality came out six years ago.
We started to think about; What could that do to the art? We developed ideas and we got to the point that we are now producing films on artists in Virtual Reality but also with artists. You give people the chance to experience an exhibition by not being there but still having a 3D surrounding. So the curatorial aspect is much better to be realized than in a two-dimensional picture version.
You can stay in the room and see a painting hanging there because the other painting is hanging on the other side of the room and you see the correspondence of the works. The correspondence is much better to see than in the two-dimensional world. This is one way to use Virtual Reality in our world. You are closer in touch with the art. One can dive deep inside an immersive world.
We are already doing a longterm project with Julian Schnabel for the last couple of years. We are trying to capture as many exhibitions of his as we can, footage from his works in the studio and in his private home in New York. This will become a bigger thing. But we also did specific projects e.g. for the Metropolitan Museum in New York. We captured the Gerhard Richter exhibition, which just opened when the pandemic happened. The museum was very happy to have another layer besides the film they did. The 3D walk through the museum was a big success. We also did projects with the Pace Gallery in New York. Now we are working on an NFT project for Vito Schnabel, which has to do with the quality of resolution. This medium is definitely something usable in the art world. You see already many artists using NFT (non-fungible token).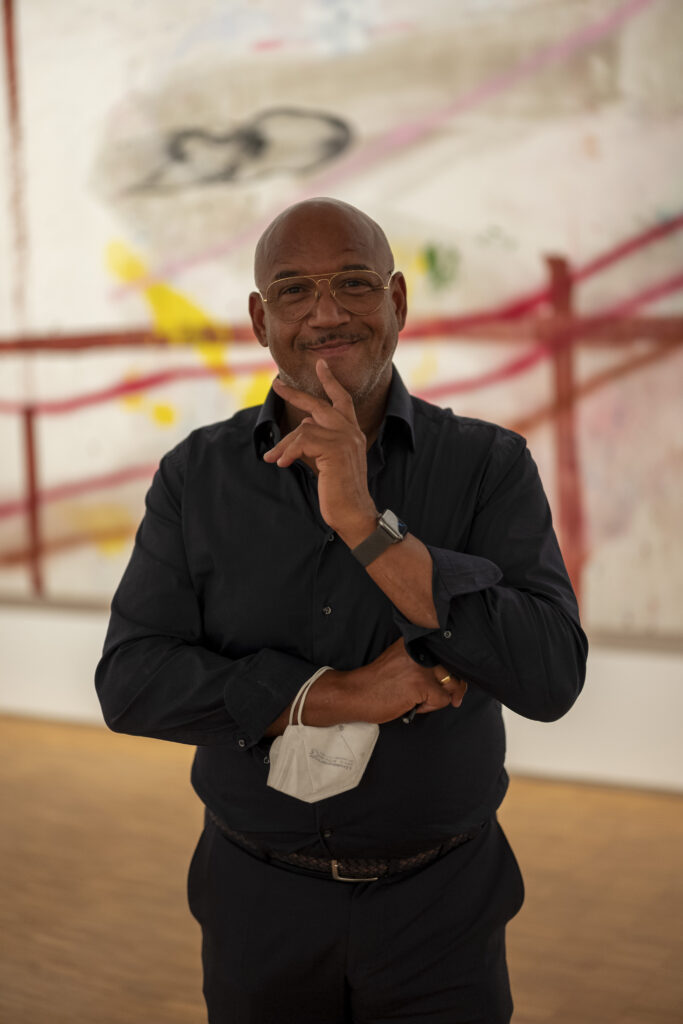 By thinking about Virtual Reality I now see the next step with the NFT. It is art with different kinds of animation. It's not a film, it's not an animation, it's not a video, it is becoming something new, something three-dimensional. I very much believe, that we are in a time where we can expect some completely new approaches on art, because technology is ruling the world and the tech companies are the rulers. Out of that, we are obviously creating new challenges for artists. It's not only the canvas and the oil paint and it's not the photography, which took much time to be established as an art medium, but now photographers have a standard position in the art world. The newest thing for me will be Virtual Reality (VR), Augmented Reality (AR), Extended Reality (XR) and NFT.
afrolifestyle: Is the ownership matter solved with the NFT-technology?
Reiner Opoku: Yes, because the ownership (on the token) is not fungible. This was a thing you always had a problem with e.g. falsification or you had to ask an appraiser or an expert, but an expert can also be wrong. This is now all gone and solved with NFT. NFT is not a hype, this technology will stay. Every week I get an invitation from a gallery to visit their online NFT platform to look at what they have there. It was the same thing with Virtual Reality in the beginning. People thought it's only a hype, but Virtual, Augmented and Extended Reality will also stay. The processes are slower but the development and the quality of the cameras and the experiences are enormous.
Vision for Africa
afrolifestyle: What is your vision for Africa?
Reiner Opoku: Africa has to have its own identity. I see a lot of potential and positiveness which we are missing a bit in the rest of the world. I am very happy about the development concerning the art world, technology, creativity, brand building, fashion and design. A lot of good things are coming from Africa. What Africa has to do now, is to get away from the feeling that they have to ask the western countries what they have to do, then Africa will find a way. It is not about the money. I also think, that it is very important to find solid and democratic forms, so that the people can trust their leaders, then I am not worried about Africa. We have to do it ourselves. The power comes from the people and I think this is more and more happening. I see a lot of potential in Africa..
afrolifestyle: Do you believe in knowledge transfer and educational progress?
Reiner Opoku: Yes, of course! When knowledge is there the future could be bright. My father studied in Europe in the fifties and his generation had the aim to go back, in this case Ghana, to bring back knowledge to Africa! Education is a key element not only for Africa.
afrolifestyle: As a businessman with African roots, what would you like to share with afrolifestyle?
Reiner Opoku: Stay positive even if it is hard sometimes. Everything comes in waves. Try to encourage people to stay positive and not negative. What goes around comes around.
afrolifestyle: Thank you Reiner for your time. It has been a pleasure having you for the interview.