For over two decades, the Cameroonian singer-songwriter Richard Bona's gifts as a world music vocalist of enchanting grace, and his dazzling sideline as a great bass guitarist, have powered a unique fusion of west African music, pop, jazz, Cuban, Brazilian and Caribbean grooves. And somehow, he has continued to stir up the most rousingly communal music without ever seeming to hit anything hard or raise his remarkable voice.
Bona Pinder Yayumayalolo was born in Minta, Cameroon, into a family of musicians, which enabled him to start learning music from a young age. His grandfather was a griot – a West African singer of praise and storyteller – and percussionist, as his mother was a singer. When he was four years old, Bona started to play the balafon. At the age of five, he began performing at his village church. Not being wealthy, Bona made many of his own instruments: including flutes and guitars (with cords strung over an old motorcycle tank). His talent was quickly noticed, and he was often invited to perform at festivals and ceremonies. Bona began learning to play the guitar at the age of 11, and in 1980, aged just 13, he assembled his first ensemble for a French jazz club in Douala. The owner befriended him and helped him discover jazz music, in particular that of Jaco Pastorius, which inspired Bona to switch his focus to the electric bass.
Richard Bona | "Vocal solo" enjoy!
Bona performing at TED Talks, April 2019
Career | Grammy Award 2002
Richard Bona emigrated to Germany at the age of 22 to study music in Düsseldorf, soon relocating to France, where he furthered his studies in music. While in France, he regularly played in various jazz clubs, sometimes with players such as Manu Dibango, Salif Keita, Jacques Higelin, and Didier Lockwood. In 1995, Bona left France and established himself in New York, where he still lives and works. In New York he played bass guitar with artists including Joe Zawinul, Larry Coryell, Michael and Randy Brecker, Mike Stern, George Benson, Branford Marsalis, Chaka Khan, Bobby McFerrin, and Steve Gadd. In 1998, Bona was the Musical Director of Harry Belafonte's European Tour.
Raul Midon + Richard Bona | State of Mind
Debut solo album and world tour with Pat Metheny
His debut solo album, Scenes from My Life, was released in 1999. He has also been prominently featured in Jaco Pastorius Big Band albums, as well as many other albums by various top-tier jazz musicians. In 2002 Bona went on a world tour with the Pat Metheny Group. The release of the successful Speaking of Now album that year had marked a profound change in the group's direction by adding younger musicians to the band, notably with Bona as bassist, vocalist, guitarist and percussionist, along with drummer Antonio Sánchez and trumpet player Cuong Vu.
In 2005 Bona released his fourth solo album Tiki, which included a collaboration with John Legend on one track, entitled "Please Don't Stop." The album was nominated for Best Contemporary World Music Album at the 49th Grammy Awards. Richard Bona's music took on a distinctive Afro-Cuban flavor with the 2016 release of the Heritage album with Cuban band Mandekan Cubano. The album was released under Quincy Jones' Qwest label.In 2015 he opened Club Bonafide in New York 52nd Street together with restaurateur Laurent D'antonio. He held a professorship of jazz music at New York University.
Richard Bona | "bass solo"
Background information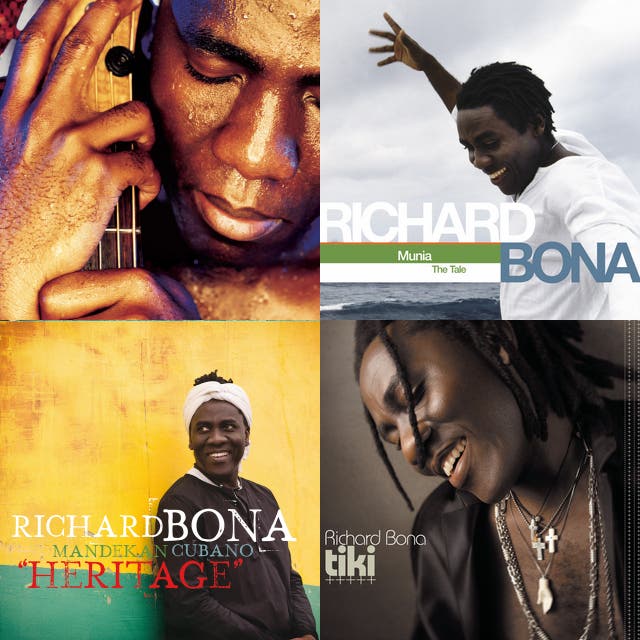 Birth name
Bona Pinder Yayumayalolo
Born
28 October 1967 (age 52)
Minta, Cameroon
Genres
Jazz fusion, world fusion, ethno jazz, Funk
Occupation
Musician, composer
Instruments
Bass, guitar and vocals
Labels
Universal, Columbia, Sony, Verve, GRP
Associated acts
Pat Metheny Group, Zawinul Syndicate, Mike Stern, John Legend and many more…
Website
www.richard-bona.com
Richard Bona + Lokua Kanza
Richard Bona | Jarasum Jazz Festival 2015