Impressions
THE FOUNDERS
Marie Darouiche was born in 1952 in Cameroon, in a family as we know it from movies and novels: A big clan, many generations almost under one roof, creative people with musical and artistic talents, who inspired each other. Marie's path led her to Europe, and fortunately to Munich. Her love for African material brought her with her. For her it was a logical step to sew the first dirndl out of a pagne" a good five years ago. At first only on order, until she was able to join forces with her sister and a friend in 2010 and NOH NEE was born. She is the heart of the studio and surprises with new dirndl creations every season.
Rahmée Wetterich was much younger than her sister Marie when she arrived in Munich. Also equipped with an extra portion of creativity. After many successful years in the fashion industry, she opened an interior design studio near the Nymphenburg Castle in Munich and worked with exclusive French fabric and furniture producers. When Marie invented the Dirndl à l' Africaine, she set the first course to turn it into NOH NEE.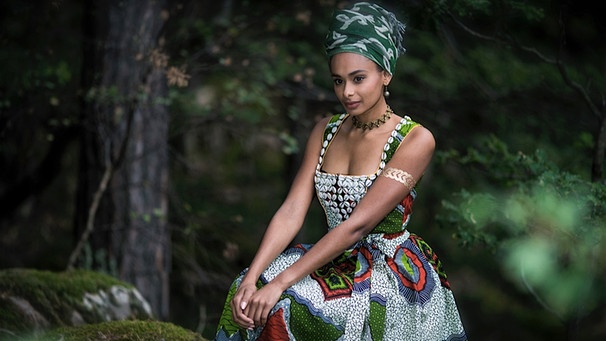 Colourmix
They grew up in Cameroon and now live in Munich: the sisters Marie Darouiche and Rahmée Wetterich draw their designs from the unique colours of Africa. "Nature," says Rahmée, "shows us how colors can be combined. Once the framework is created, everything can be made to blossom in it".
Dirndl à l' Africaine
It is only logical that the idea of combining artistic, colourful African fabrics with Bavarian cuts was born. The frame for the Dirndl is a traditional Bavarian Dirndl cut from the fifties. "With the African fabrics," says Marie, "the dirndls become a tribute to a woman's pride, a fabric-based attitude to life that, with jackets and accessories, sets no limits to your imagination.
Behind the concept of the "Dirndl à l' Africaine" is Rahmée's vision of "Colourmix" – the creative, exciting exchange of world cultures: "It will play a major role in the future," she says, "people will get to know each other, create something new and see their traditions in a new light. And because women love our fabrics so much, we have been offering a small collection since 2013: coats, skirts, dresses, blouses and trousers which we are continuously expanding.