Africanism
• Ozwald Boateng moves like no other in the field of modern tailoring; combining classical British flavor with African lifestyle. In 1994 he presented his first fashion show in Paris as the first tailor ever to present in Paris.
ARISE Fashion Week
Lagos 2018 | impressions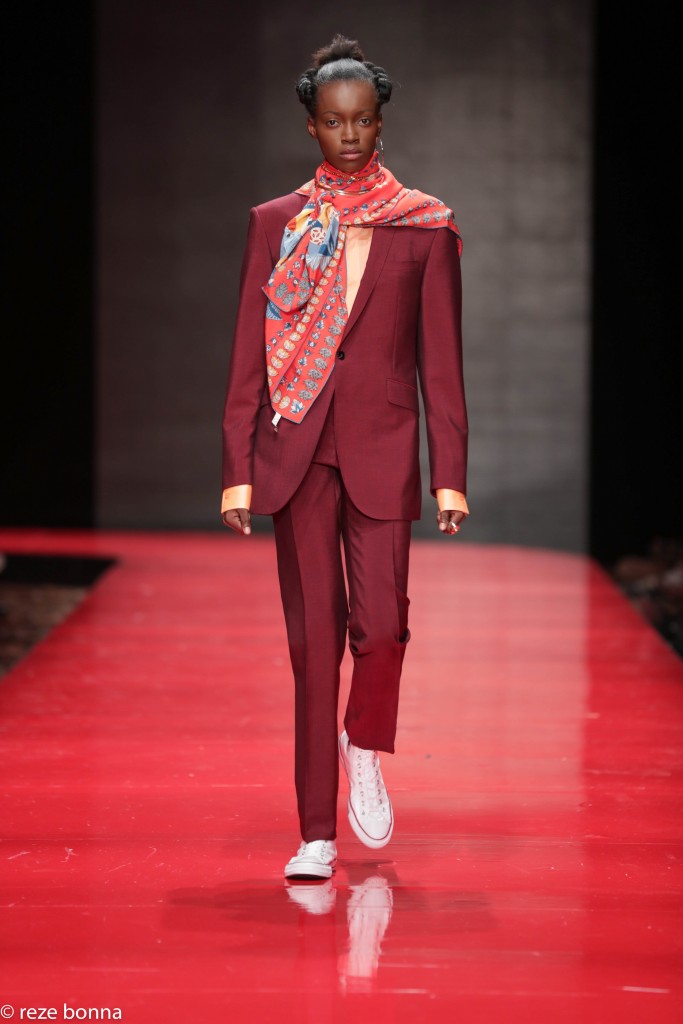 Ozwald Boateng was born in London in 1967. He grew up in London with his parents who came from Ghana. His mother worked as a seamstress and made him sew. Fascinated by his father's immaculate suits, the young Ozwald received his first own suit at the age of five. He was inspired by the classical British tailoring. At the age of fourteen, he took a summer job sewing linings into suits.
Later, during his computer science studies, his girlfriend at the time took him to design, so he switched to fashion and design studies. When he helped a friend to design clothes, he received great encouragement for his work and began selling his own creations to a menswear shop in Covent Garden.
In his early twenties, and having dressed celebrities such as Mick Jagger, Jimmy Paige and Spike Lee, Ozwald Boateng set up a design studio on London's famous Portobello Road, where he would start a journey that would see him change the course of men's fashion and become one of the most recognisable names in the industry.
In 1994 he presented his first fashion show in Paris as the first tailor ever to present in Paris.
Road To Paris 1994 | Short Film
After the show was a huge success, Tommy Nutter encouraged him to open his first boutique on Saville Row in 1995. Boateng's contemporary menswear designs helped Saville Row reach out to the younger demographic.
In 2003 the first women's fragrance was launched, consisting of two separate fragrances that could be worn together or separately. A year later, Boateng became the new creative director for menswear at Givenchy until 2007.
In 2005 the Victoria and Albert Museum in London honored Boateng's work with a retrospective exhibition of his designs.
Tailor to the Stars
In 2008 another flagship store and headquarters opened on Saville Row. Boateng reinterprets British sewing art and adds modern and fresh elements to his excellent and luxurious designs.
Boateng designed and orchestrated a show at the 9th Annual African Summit in Accra which coincided with cessation of the 200 year old transatlantic slave trade and Ghana's fifty years of independence.
Boateng is also a famous costume designer having designed costumes for box office hits like Sex and the city, Hannibal, The Matrix, Oceans 13, Tomorrow Never Dies, Ugly Betty and Rush Hour 3.
Apollo Theater | Harlem 2018
In 2018 he launched his first-ever womenswear in the historic Apollo Theater in Harlem with the packed auditorium helping the venue to celebrate the 100th anniversary of the Harlem Renaissance as well as Boateng's move into a new category.
The runway was a mix of men's and women's looks for a collection that was in many ways a world away from traditional British tailoring as color and African-inspired print were the key takeaways.
Ozwald Boateng | Arise Fashion Week 2018
Ozwald Boateng moves like no other in the field of modern tailoring; combining classical British flavor with African lifestyle